Hetty Feather (Hetty Feather, #1)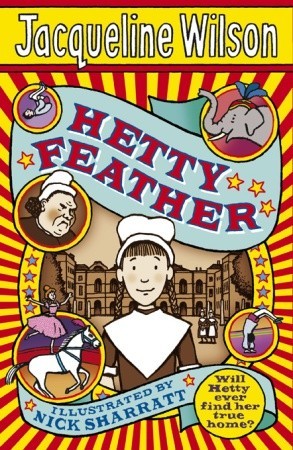 London, 1876 and Hetty Feather is just a tiny baby when her mother leaves her at the Foundling Hospital. The Hospital cares for abandoned children - but Hetty must first live with a foster family until she is big enough to go to school. Life in the countryside is hard but with her 'brothers' Jem and Gideon, she helps in the fields and plays imaginary games. Together they sneak off to visit the travelling circus…
Hetty Feather is a Victorian Foundling fostered by John and Peg Cotton, she teases Saul, takes care of Gideon and plays with Jem. When it's time for Hetty to go back to The Foundling Hospital at the age of five, she vows to not become a meek Foundling girl but stay Hetty Feather a rebellious girl with flaming hair to match her temper.
Join Hetty in Hetty Feather, Sapphire Battersea, Emerald Star, Diamond and Little Stars.
A brilliant book set in Victorian London of a Foundling girl telling the story of her unique life.
By CT, aged 9