Berkshire and Oxfordshire schools showcase their space writing skills
Visiting several schools in Berkshire and Oxfordshire recently to run my Launch your Story KS2 creative writing workshop, I was so impressed by the level of imagination and creativity.
Every single KS2 class threw itself into the tasks involved in creating the outline of a story in just one sitting. For the writing teams who collected the most points on the day, I promised to showcase some of their space stories, which you'll find below.
So what did we do on the day? Here are the objectives of the session, key content and learning outcomes.
Learning Objectives
·         To be able to differentiate between character and characteristics.
·         To create profiles for story characters and understand what excites a reader.
·         To produce a setting plan for a story.
·         To understand how a plot plan signposts a story.
·         Create a plot plan.
·         To discuss different types of story beginning.
·         To produce a story beginning based on today's character, setting and plot plan.
Content
·         Introduction to Sue Palmer, May's Moon and today's workshop objectives.
·         Character and characteristics – class discussion.
·         Re-reading of Chapter 1 of May's Moon.
·         Group notes on Michael May's character.
·         Introduction to character form.
·         Interactive group exercise to create characters.
·         Class discussion on what makes a good setting.
·         Group exercise to create story settings.
·         How do I plan my story. Using a plot plan sheet.
·         How do I begin my story? What sort of beginning do I like?
·         Write your own first lines.
Learning Outcomes
·         I know how to create a character, setting and a plot for my story and how to write an exciting start.
What did the teachers say?
Teacher of Year 5/6 at Checkendon Primary School:
Thank you so much for the fantastic day – the workshops were brilliant. 
Firstly, I wanted to say a massive thank you for such a wonderful workshop – it has been the best virtual workshop we have had so far! The children would not stop talking about it all afternoon. We will start writing our stories this week and will pick a few to send on to you – the children are now competing to get their work chosen.
Winning Stories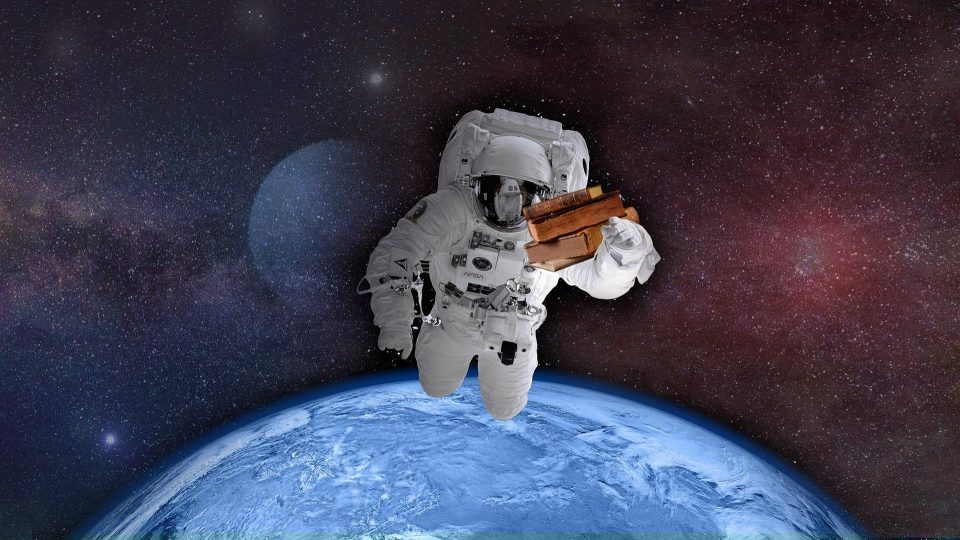 And now for the exciting part…here are the space stories chosen from the winning school teams.
Sophia, Rhino Class, Checkendon Primary School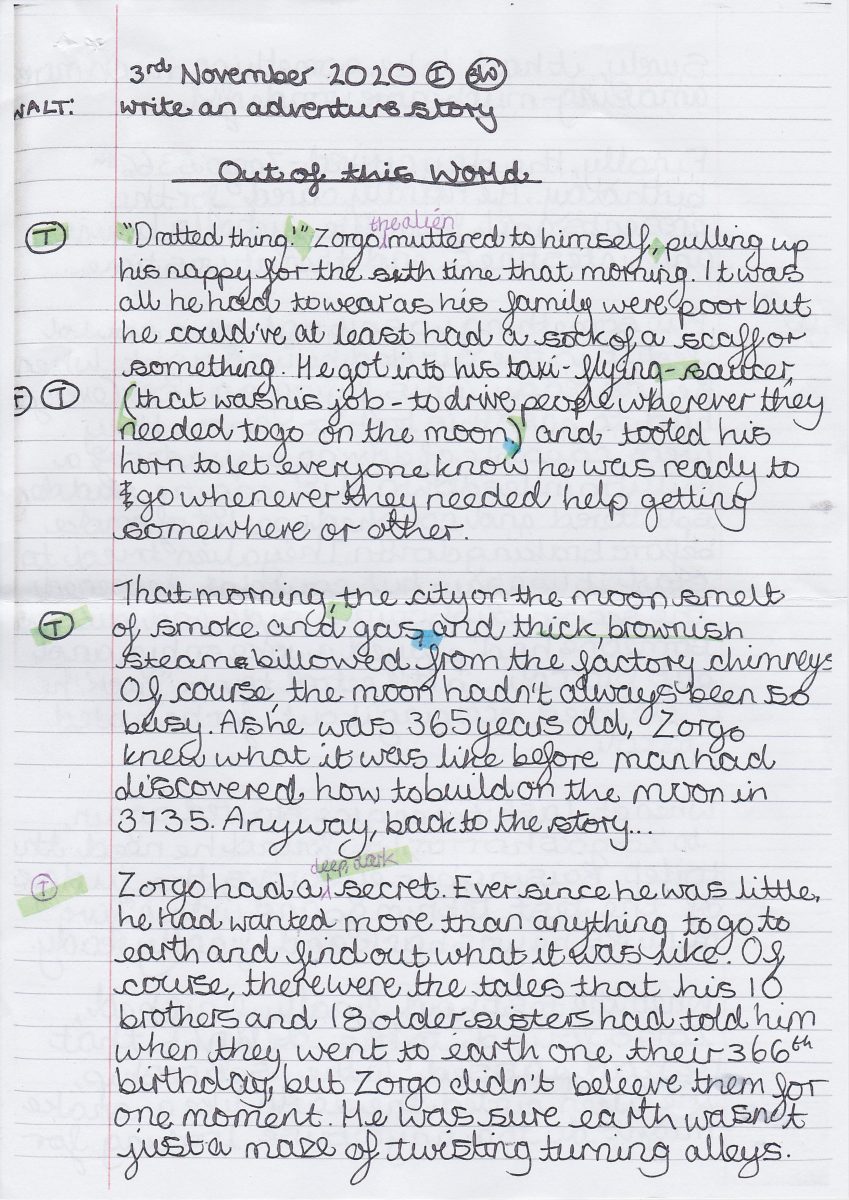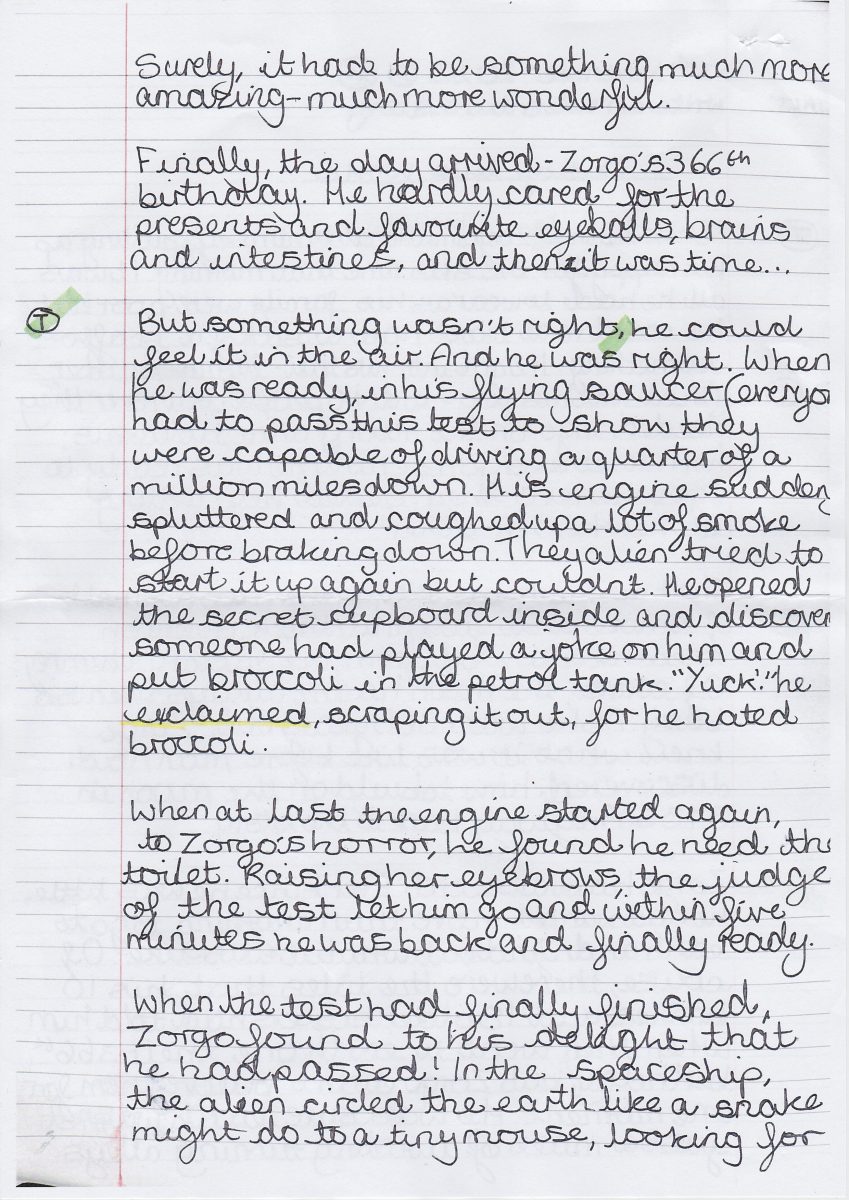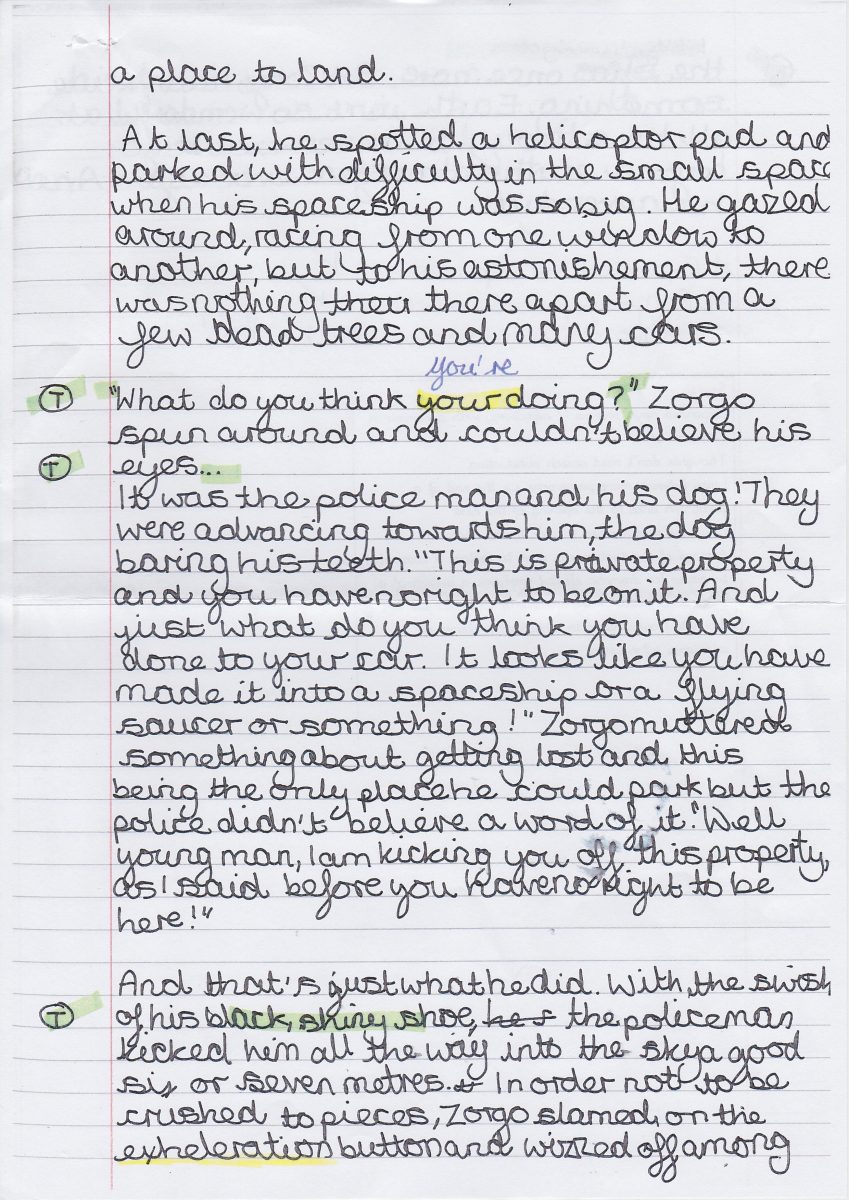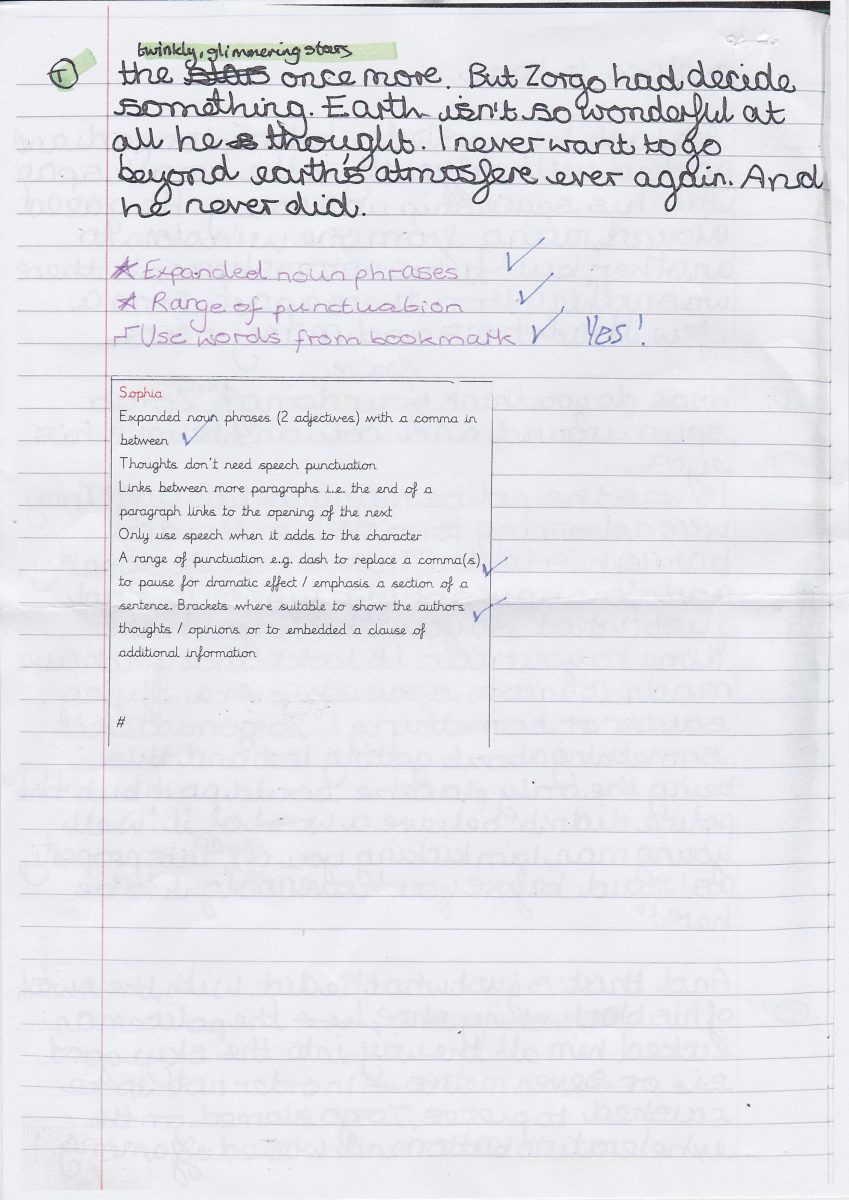 I loved Zorgo's adventures as a 366 year old taxi flying saucer driver.
There were great facts about the 250,000 miles to earth and the broccoli in the petrol tank made me laugh.
I also enjoyed the writing, particularly, 'the alien circled the earth like a snake might do to a tiny mouse' and 'that morning, the city on the moon smelt of smoke and gas and thick, brownish steam billowed from the factory chimneys.'
Well done, Sophia!
Charlie, Crimson Class, Hawkedon Primary School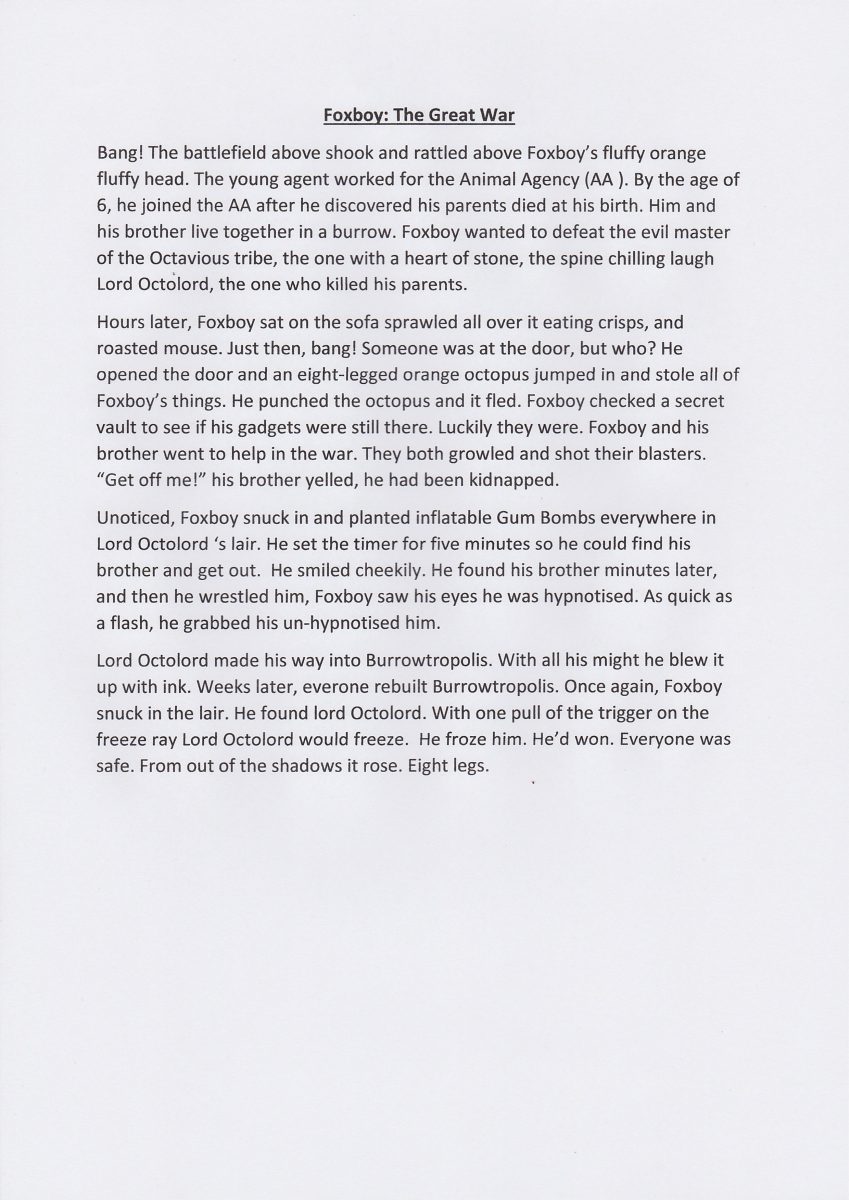 I love a story that starts with a bang and has drama and an evil character. You had my attention from the start.
You created memorable character details about Foxboy and your setting of Burrowtropolis is so creative.
Well done, Charlie!
Harry, Crimson Class, Hawkedon Primary School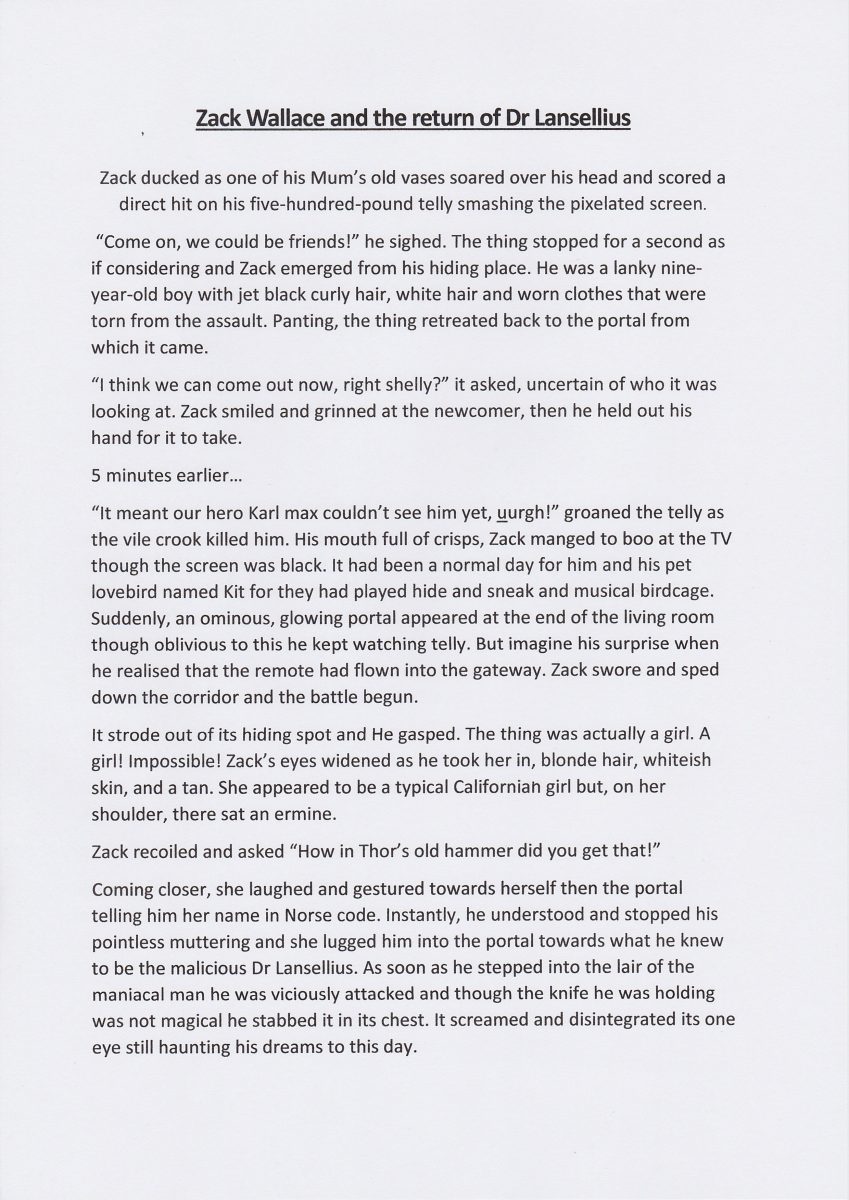 This is the kind of story that would have haunted me for days as a child but I'd be forced to read on as it's so compelling.
I love the use of language, for example, 'ominous, glowing portal', 'pixelated' and 'ermine'. They make the story interesting and unusual.
The dialogue and description is really effective at showing Zack's character.
Well done, Harry!
Max, Claret Class, Hawkedon Primary School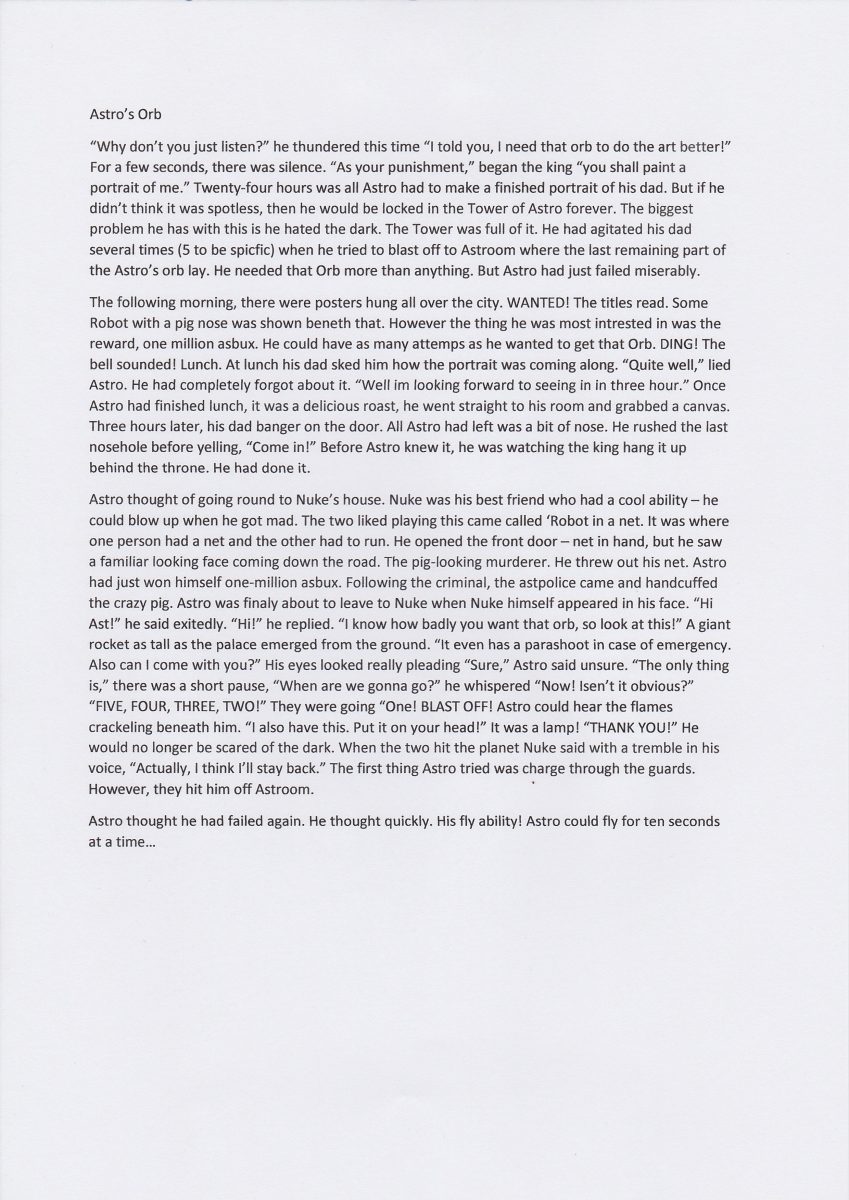 There is so much action in this story that it carried me along from the start.
We find out really early on Astro's goal of painting his dad's portrait and what his biggest fear is, which made me root for him.
I like the use of humour and the way the story leaves us wanting more.
Well done, Max!
George, Claret Class, Hawkedon Primary School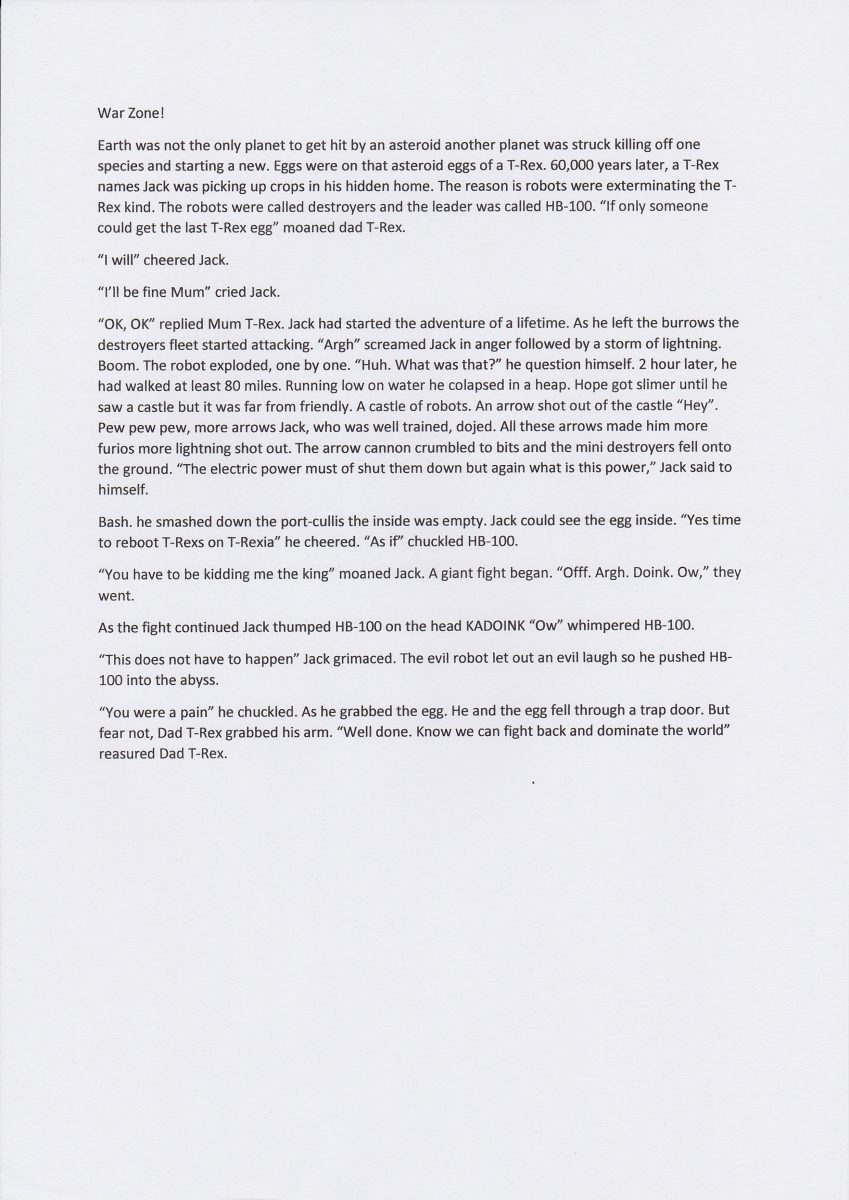 I loved the meeting of past and future in this story with T-Rex and robots.
It's clear from the start that Jack's goal is to the get the last T-rex egg and I was with him on this journey from the start.
The action and setting-creation is really effective and I love the sights, sounds and feelings you create in your story.
Well done, George!
Congratulations to all the classes who took part in my 'Launch your Story' creative writing workshops.
You are all unique and so are your stories. Keep on writing and reading and I look forward to showcasing more school writing talent!