Super Satellites And What They Mean For Us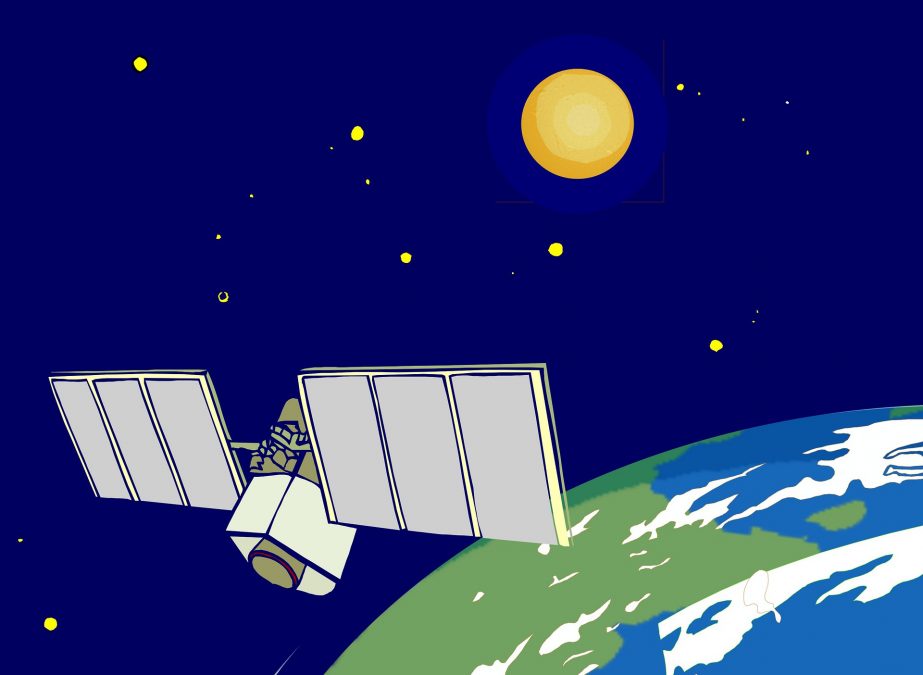 What is a Satellite?
A satellite is a planet, moon or machine that orbits a planet or star.
Planets and moons are called natural satellites and machines referred to as artificial satellites.
Natural Satellites
Our own Earth is a natural satellite as it orbits the sun and our Moon is a natural satellite as it orbits Earth.
Most of the major planets (except Mercury and Venus) have moons. Pluto and other dwarf planets, as well as many asteroids, also have small moons.
How many moons does each planet have?
Mercury – 0
Venus – 0
Earth – 1
Mars – 2
Neptune – 14
Uranus – 27
Saturn – 62 (53 confirmed, 9 provisional)
Jupiter – 79 (53 confirmed, 26 provisional)
Artificial Satellites
Most of the satellites we talk about are man-made. There are over 6,000 satellites orbiting the Earth at the moment.
So why do we need satellites and how do they help us?
Our planet – Some take pictures of the Earth to help meteorologists predict our weather and track things like hurricanes, wildfires, how ice is melting and how seas are rising. Other satellites can help scientists predict the spread of disease or even help farmers decide which crops to plant.
Our universe – Satellites also monitor other planets, the sun, black holes, other galaxies and dark matter, to give us a better understanding of the solar system and universe.
Our lives  –  Other satellites are used mainly for communication, such as beaming phone or TV signals around the world. We've all heard of GPS (Global Positioning System), which enables us to pinpoint exact locations. This is possible because of over 30 navigation satellites orbiting the world. Signals from these satellites are received by our phones. Once we receive a few signals from these satellites, our phones can work out our precise location.
Our extremely accurate weather forecasts are partly a result of weather satellites. As well as land-based weather monitoring, such as measuring atmospheric pressure, temperature, wind speed, wind direction, humidity, and precipitation, weather satellites provide us with vital information about weather forecasts.
Weather satellites carry instruments called radiometers that scan the Earth to form images. These instruments usually have a small telescope, a scanning mechanism, and detectors that detect either visible, infrared, or microwave radiation for the purpose of monitoring weather systems around the world.
How do satellites get into space?
Most satellites are launched into space on rockets. They then orbit Earth by balancing their speed with the pull of Earth's gravity. Satellites orbit Earth at different speeds and heights.
One of the most recent launches (this month), was by Sir Richard Branson's Virgin Orbit Company. It succeeded in putting its first 10 satellites in space, using a rocket, which was launched from an old 747 jumbo jet. These 10 'CubeSat' devices are miniature satellites made up of multiple cubic modules of 10cm x 10cm x 10cm. Having initially been developed as educational tools, CubeSats are increasingly being used in orbit for technology demonstration, scientific studies, and even commercial purposes. And just like other satellites, they are custom built for specific missions.
What are the parts of a satellite?
Whatever shape, size and purpose of a satellite, most have at least two elements in common – a power source and an antenna. The antenna sends and receives pieces of information (often to and from Earth) and the power source is either a battery or a solar panel. Other items that satellites carry include cameras and sensors.
Famous Satellites
Here are some of the most famous satellites from the past 63 years.
Sputnik 1 – Russia surprised the world in October 1957 when it announced it had placed the first basketball-sized, man-made object in orbit around the Earth.
Explorer 1 –  Explorer 1 was the first satellite launched by the United States on January 31, 1958. The main science equipment on the satellite was a cosmic ray detector, designed to measure the radiation environment in Earth's orbit.
Echo 1 – NASA launched this giant balloon in 1960. At 30 metres in diameter, its job was to reflect incoming signals and was the world's first basic communications satellite.
Mariner 9 – Mariner 9 was the first spacecraft to orbit another planet. It was a US space probe that contributed greatly to the exploration of Mars.
Skylab – Skylab was the first space station operated by the United States in 1973. It spent six years orbiting Earth until its decaying orbit caused it to re-enter the atmosphere over the Indian Ocean. Astronauts on Skylab conducted 270 experiments in sciences, solar astronomy, Earth observations and materials processing. Among the most important were investigations on the physiological impact of long-duration space flight on astronauts.
Voyager 1 – Launched in 1977 to fly by Jupiter and Saturn, Voyager 1 made it into interstellar space in August 2012 and continues to collect data. Voyager 1 and its Voyager 2 have been flying longer than any other spacecraft in history. Voyager 1 carries a copy of the Golden Record – a message from humanity to the cosmos that includes greetings in 55 languages, pictures of people and places on Earth and music.
Mir Space Station – The size of a blue whale, the Mir Space Station was launched into Earth's orbit by the USSR in 1986. Over the next decade it grew into a large habitat that served as a flexible space laboratory for more than 14 years. Mir served as a microgravity research laboratory in which crews conducted experiments in human biology, physics, astronomy, meteorology, and spacecraft technology.
The International Space Station – The International Space Station (ISS) is a multi-nation construction project that is the largest single structure humans have ever put into space. Its main construction was completed between 1998 and 2011, although the station continually evolves to include new missions and experiments. It has been continuously occupied since November 2000. The size of a football pitch, the ISS is the third-brightest object in the sky. It's so big you can see it in the night sky without a telescope or binoculars. Its primary purpose is as a unique science laboratory.
The Hubble Telescope – Hubble is the first major optical telescope to be placed in space. Far above rain clouds, light pollution, and above the effect of Earth's atmosphere, Hubble (which is the size of a bus) has an unobstructed view of the universe. Scientists have used Hubble to observe stars, galaxies and the planets in our solar system.
Galileo  – Is Europe's own global navigation satellite (GPS) system.
Some well-known satellites